Chimie ParisTech - PSL students have access to all restaurants in the CROUS and the Chatelet university restaurant is located at 10 rue Jean Calvin, a 5-minute walk from the school.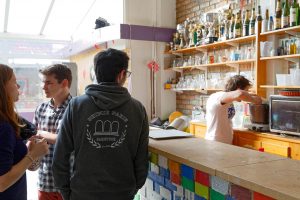 The keft is held by students on the schoolgrounds and is a place to gather around a foosball table, have a snack break, or get a coffee all day long!
Chimie ParisTech - PSL does not have housing reserved for its students. Students admitted to Chimie ParisTech - PSL can connect to the PSL Housing platform to access housing that have been made available to them by individuals and real estate agencies.
To take advantage of these offers, all new PSL members need to create an account with their personal email address on pslhousing.univ-psl.fr (registration key: PSLHOUSING). PSL members need to login with their ENT PSL credentials on pslhousing.univ-psl.fr
It may be worthwhile to contact Chimie ParisTech - PSL's BDE, as they can share vacancies from departing students.
International students coming under exchange and dual-degree agreements benefit from special conditions.
Organizations offering student housing
Housing in associative or private residences
Co-location and private homes can be interesting options, so the PSL website lists several websites and gives students a first level of information on housing subsidies, rental guarantees and legal aid.
CLLAJ : Le Comité Local pour le Logement Autonome des Jeunes de Paris ("The Local Committee for the Autonomous Housing of Young People of Paris") welcomes, informs and guides young Parisians aged 18 to 29 in their search for housing.